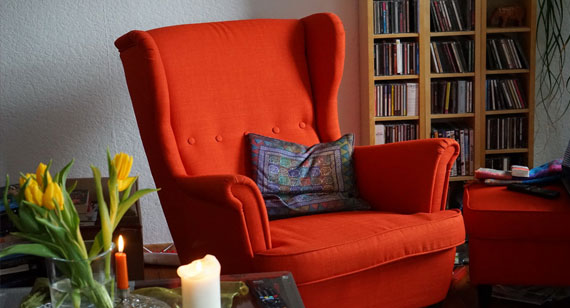 How to choose a comfortable chair for the living room?
Convenience means something different for everyone. Some say that it is soft, others - that it is well profiled, others - the ability to adjust it to your needs. When thinking about comfort, we usually take into account the features of the furniture, which allow us to enjoy moments of well-deserved rest and fully relax in the position of the body that we like best. So what should you pay attention to when choosing a chair for the living room, so that the piece of furniture we buy guarantees only a pleasant impression and performs its main function?


In contrast to appearance, this is an important issue not only because of the available space in the room where the chair will end up, but also because of the height and weight of the furniture user. In large, spacious living rooms there is a place where you can afford to place not only two, but even as many chairs as there are in the house, choosing a model that is convenient for you. Unfortunately, the available space does not always allow, and you often have to compromise, choosing one or two chairs that best meet the expectations of all residents. Armchairs with a relaxation function (such as Arosa, Frida, Inari or Tom), for example, need more space around them so that you can make full use of their functions and thus open the back and seats. You should also pay attention, for example, to the height of the back and seat - it is easier to get up from a chair with a higher seat, which is especially important for the elderly. A tall person will definitely be more comfortable in a chair with a higher back or in one with an adjustable headrest.

There are those who like to immerse themselves in a soft back and seat, for others it is important to have a much harder surface, which provides more stable support. Of course, the common feature of all of them is that the chair provides a comfortable, but at the same time healthy and ergonomic body position. After all, it is known that a healthy and effective spine is a guarantee of excellent shape and well-being. A well-profiled chair is something that will lighten the spine during rest and completely relax.


If you choose a chair with a relaxation function, pay attention to how it is deployed. The simplest mechanism is the manual relaxation function, which is broken down by the strength of your own muscles. A more perfect and convenient solution is the electric relaxation function controlled by electric sensors. By adjusting the angle of the backrest and footrest, you do not have to get up from the chair - just gently touch the sensors and the chair adjusts to your needs. In the model with two motors (Arosa) you can determine the angle of the backrest and footrest.


The materials of this piece of furniture greatly affect the comfort of rest. Appropriate filling, ie high-quality foam (highly elastic and / or polyurethane) and corrugated springs, provide adequate flexibility of the furniture and its elasticity, and at the same time guarantee the preservation of its shape and form. You should also pay attention to the type of upholstery, because both genuine leather and fabric have many advantages, but each of these types of upholstery has different features and tactile qualities. High quality materials will also ensure the durability of the furniture - thanks to them it will successfully serve you for many years.


Modern armchairs are furniture that guarantees pleasant moments of rest thanks to the reasonable decisions which are used in them. The aforementioned relaxation function is one of the most advanced functions they can be equipped with. This allows you to provide a comfortable rest in both sitting and lying position. A folding footrest (in models such as Tom, Arosa, Inari or Frida) will relieve tired legs after a day and improve blood circulation. Movable headrests guarantee comfortable head support while reading, watching TV or after sleeping. Also, modern bucket-shaped seats can be equipped with additional, put on headrests that provide an ergonomic body position.